FISHING AT NQABARA ECO RIVER LODGE
THE RIVERS
There are not many angling sites where one can enjoy exciting angling in two rivers when the sea is unfishable. The Nqabara and Nqabarana Rivers join at the mouth below the Lodge and are amazing clean rivers, teaming with prolific birdlife and providing good fishing all year. The Nqabarana is a smaller river and is best navigated by canoe, which can be rented from the Lodge, you are welcome to bring your own. Lure and light bait angling amongst the mangroves and deeper channels will result in catches of Perch, Grunter, Kob, Garrick and small Kingies. The river is calm and both young and older family members will have great fun exploring it by canoe.
The Nqabara river is much larger and navigable by small estuary boat or canoe, or it can be fished from the banks. One can navigate for a long way upstream and many species are accessible by lures and baits, with Garrick and Kob being first prize. Also included amongst catches are the hard fighting Rock Salmon, Perch,Kingfish and Grunter, while Springer occur higher up.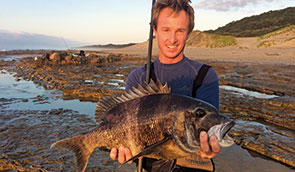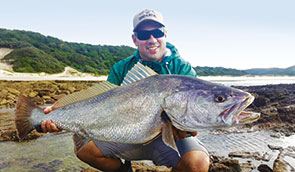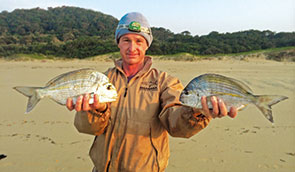 THE SEA
During neap tides walk across a sand bank on the river to access the beach on the right hand side of the Lodge. If however, you want to fish during a Spring High Tide then a canoe is best used to cross the river. From the beach one will catch plenty of Rays, Sand Sharks, or target Kob on the drop-offs with McCarthy Paddle-tails, or elusive Pig-nose Grunter during winter months. Sunrise Rocks, 200 meters to the right of the mouth, produces Silvers, Bluefish and Kob. In order to fish to the left of the Nqabara River, one would canoe across and either fish the mouth on an incoming tide or the many gullies that stretch for kilometres on the East Bank.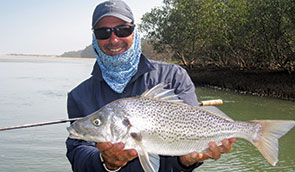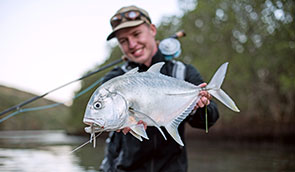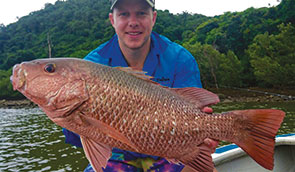 FLYFISHING
Flyfishing for Kob in the sea is best with a calmer sea and when the tides are best suited to this activity, the Kob are found in the deep channels. In the two estuaries generally calm conditions prevail with Poppers and Clousers best used, resulting in catches of Kingfish, Carp, Garrick, Perch and Rock Salmon.
Please remember that we practice Catch and Release and only fish that are to be consumed at the Lodge can be kept. Kindly also follow the Parks Rules and Regulations as you do need a Fishing License.
FISHING GALLERY